Tell President Trump to Support Malaria Vaccine Research
Final signature count: 16,092
Sponsor: The Child Health Site
Help preserve the lives of hundreds of thousands of people worldwide by supporting the push for a malaria vaccine.
---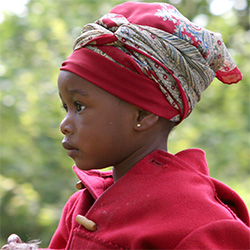 It's hard to believe that something as simple as a mosquito bite has caused the death of millions of people. Yet, each year, millions of people—especially those living in sub-Saharan Africa—contract malaria, the aggressive parasitic disease transmitted to people by infected mosquitoes. UNICEF reports that a child dies from malaria every 30 seconds[1]. It's a shocking statistic, especially when taken into account malaria is treatable. Unfortunately, half the world's population[2] is at risk of contracting the disease, and far too many of them are killed by it yearly.
Steps have been made to battle the spread of the disease in those parts of the world where it is most prevalent. Aid groups distribute insecticidal nets to keep mosquitoes away from people at night and even fumigate people's homes. These efforts have no doubt alleviated the issue in some ways, but they ultimately don't address the root of the problem, nor do they protect the citizens of these countries once they step outside their homes. Worse, mosquitoes around the world are becoming increasingly resistant to the insecticides being used[3] - rendering this solution less effective over time.
If researchers are to succeed in stopping the spread of malaria, they need the support of health organizations and the governments of the world.
Tell President Trump to give more support to preventing, treating, and curing malaria—a goal that, if realized, would save the lives of millions.
To Top
The Petition:
Dear President Trump,
Malaria infections cause thousands of deaths a year, many of them young children in Africa whose immune systems were not well-equipped to handle aggressive infections. Since 2006, the number of deaths has dropped thanks to the immense efforts of aid and health organizations.
However, millions of people are still affected by this disease each year, which means the efforts toward eradicating it must intensify.
Please increase your efforts to bring the scourge of malaria in the developing world to an end. Give everyone at risk the chance not only to survive, but also to thrive, free of the fear their lives may be cut short by something as tiny as a mosquito bite.